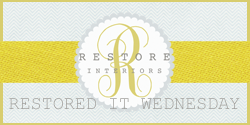 I have realized that I cannot blog at night. Is it age? Gosh I hope not. By the time I get everyone settled and I do the things I need to do like run the dishwasher etc, I am zonked and have no brain activity left. I tried so hard to squeeze out my post last night and I just couldn't do it! I guess I am going to have to convert to being a morning blogger when I have had my pot of coffee and am more functional. I don't know how you all stay up so late blogging! So here I am, posting Restored It Wednesday in the middle of the afternoon because I either, one, may forget and two I might not have the gumption!
Alright, welcome to Restored It Wednesday everyone! I love this time of the week! Here is what caught my eye. Katie over at Creatively Living Blog is selling her home. I really enjoyed taking her home tour. I used to sell real estate so I know the importance of good curb appeal, and she has it. She also has done a fantastic job getting the inside ready. It should sell in no time! Good luck Katie! Y'all hop on over and take her tour. You will be glad you did.
So what have you been up to? Grab a button and link up something you have made look better than it did before. Thanks for joining me for Restored It Wednesday #89!