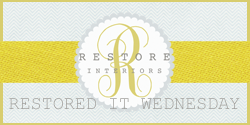 Hello Friends! Welcome to Restored It Wednesday! As I mentioned in a previous post, we are changing it up a little bit. Restored It Wednesday will only be held on the last Wednesday of each month and a theme will be rotated around. For those of you who hate change, (preachin'to the choir) I ask for you to trust me. I am hoping this will bring you more page views for your projects.
This week's theme will be FURNITURE. Please only link up furniture. It can be something you painted, something you salvaged, something you rescued etc.
If I delete it, it's because it is not FURNITURE. I know that a lot of people just come over and link up and don't read, so this may take some getting used to. We will just play it by ear and see how it goes, sound good? Okay.
One other awesome little tid bit is that this party is being sponsored by appliances online. They have generously offered a 50.00 gift card as a giveaway to one of you who enter a link. All you have to do to be eligible is link back with the following phrase and then come back to the comments to let us know what number your link up is. It helps us keep up with who is playing. If you don't want to enter, no worries, you can still link up, I just ask for you to please grab a button and link back here.
Here is the phrase:
My entry into Restored It Wednesday is sponsored by Appliances Online.
Here is the link address to copy and paste for Appliances Online;
http://www.appliancesonline.co.uk/product/IWDC6125-Indesit-Start-Washer-Dryer-White-15789.aspx
I don't know about you but I could totally use a 50.00 gift card to Amazon and I even went so far as to go and pick out something I would get. I was thinking fall, Ikat, throw pillow and BAM, this baby came out of the search engine at 49.99. I saw this very Pillow at Atlanta Market for the same price. NICE.
Ikat Print Linen Throw Pillow
Good Luck and Have fun!!
I will feature one of your lovely projects on Facebook and here on the blog next week!
**************************************************************************************
I was compensated for this post with a 50.00 Amazon Gift Card for me and for one of my readers. All opinions are my own.