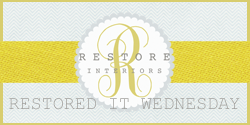 Y'all please forgive me for not posting a favorite tonight. My sinus cavity is on fire and I am on the couch glued to this Libyan Embassy stuff. Tragic. This cold or whatever it is hit me like a brick this afternoon and I can barely see straight.
I hope you have all had a fantastic week and I can't wait to see what you have been working on.
Also, just to put the bug in your ear, I am going to be changing the structure of Restored It Wednesday very soon. It will be better for you and I think will create more pageviews for your blog. I'm still mulling it around in my head, but I just want you to expect some changes.
Love y'all. Happy Wednesday…..