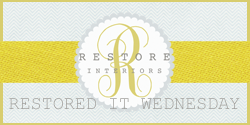 Hello Friends!! Welcome to Restored It Wednesday #88! Here is what caught my eye this week. Woven Home created this amazing little nook with a bench in an entry way closet.
I love everything about this. I love the ingenuity, the color palette, EVERYTHING! Isn't it great? Please go by and check out Kandi's blog and give her a high-five.
So what have you been up to this week? Grab a button and link up something that you have made look better than it did before. Have fun!
And this week., again, for a little fun, I have featured another project on Homewood's Blog. You can see it here!