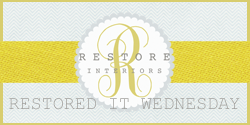 Hey Y'all!! Welcome to Restored It Wednesday! I hope you are all having a great start to your week! I am busy getting the kids ready to go back to school. How about you? We didn't have very many links lasts week, so I am guessing a lot of you are doing the same thing.
So, here is what caught my eye.
I love this table by Design Stash. Brooke has a great blog full of fantastic furniture make overs. This table is no exception. She was very thorough in explaining exactly how she did it too!
I love her use of aqua color all throughout her home. This is such a soothing color.
So what have you been up to? Grab a button and link up something that you have made look better than it did before. You may get a feature next week! Some of you I wanted to feature this week along side Brooke but I couldn't find a link back on your blog. Please make sure if you want to be featured that Restore Interiors is mentioned and linked somewhere in your post.
Here is one more item of business. I am trying to get on a morning, regular blogging schedule. Hopefully this will be implemented after the kids go back to school. Next week, Restored It Wednesday will most likely be posted on Wednesday Morning, the day it SHOULD be. We will see how this goes!
Thanks and have fun!